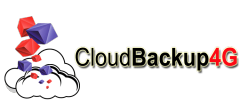 CloudBackup4G

- Cloud Backup Solutions
Encryption End-to-end Security of Data
Strong local encryption protects your data from unauthorized access with up to 256-bit strong keys even before it is transmitted to the cloud. Any data sent to the cloud is automatically encrypted using the hardened SSL protocols which eliminate the possibility of an outsider gaining access to your data. And all data can be optionally encrypted at rest in the cloud storage.
File Level Backup and Recovery with Bandwidth Throttling
Choose individual files and folders to backup to limit backup traffic utilization. Cloudbackup4G allows you to configure backups to use most of available bandwidth during non-business hours and throttle backup traffic during business hours, to allow for normal business operation.
Purge Options, Compression and Email Notification
Specify retention policy for backups and able to reduce backups' size with local compression powered by email notification to track each run of your backup and restore plans.
No Hardware Required
Allows not only data backup but also the backup MS Exchange mail stores to the cloud, MS SQL Server databases with pre-set scheduling templates or configure your own for full, differential or transaction log backup.
Scheduling and Real-Time Backup
Flexible scheduling capability with real time back up of file changes which enable continuous backup process.
Online Access
Online access to your backups. Access, share and restore files from anywhere through a web interface.
LOWER TOTAL COST OF OWNERSHIP
A cloud backup, recovery and restore solution takes advantage of your existing infrastructure, so you don't need to buy or install expensive equipment. Cloud backup software enables business data to be protected againts disaster, data loss, sabotage, and then securely transmit encrypted copies of those files to offsite data centers. This results in a lower total cost of ownership compared to the purchase and maintenance of complex tape backup systems and also disaster recovery centers.
IMPROVED RELIABILITY & SPEED OF RECOVERY
Having a backup solution is meaningless without a rapid and reliable method of recovering and restoring data. A cloud backup and recovery system instantly restores data regardless of your location, including individual files, the most common type of data recovery. This flexibility will allow you to establish Recovery Time Objectives and Recovery Point Objectives that match your business requirements.
A MORE SECURE METHOD OF FILE TRANSFER & STORAGE
Files selected for backup are encrypted before transmission to a cloud storage and remains encrypted once they reach their destination. The only decryption key resides with the customer, and these safeguards are superior to unencrypted on-premise data backup and recovery systems.
SMARTER USE OF IT RESOURCES
A cloud backup, recovery and restore solution allows your business to redirect IT resources to more pressing challenges or strategic initiatives within your organization. The built-in scalability of cloud backup makes it easy to evolve as your business data environment changes and grows.
STRONGER COMPLIANCE SAFEGUARDS
Although your company will continue to assume liability for data security when moving to cloud backup, our cloud storage data centers belong to the reputable companies with highly secured data centers that conforms to the highest level of industry strength compliance.
REDUCED OPERATING & ADMINISTRATIVE COSTS
Once you select a backup schedule, company data is saved automatically, providing an unobtrusive and transparent solution. This "set it and forget it" model results in less operational and administrative management for data backup.
ELIMINATES THE DRAWBACK OF TAPE BACKUP
Tape backups are often expensive, faulty and can be lost or stolen when being transported off-site. Recovering data from a tape system can be slow process, especially if a tape needs to be retrieved from an off-site data center.
OFFSIDE DISASTER RECOVERY CAPABILITIES
We offer multiple cloud data centers that are geographically diverse so that we can also offer a backup solution with more reliability than tape backup.