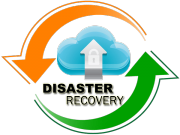 Disaster

Recovery as a Service
Can my business operate without my critical data and applications?
If you answered a firm NO, then disaster recovery is for you!

Let's face it, at some point your data will be at risk. It could be a machine error, a human error, a virus or even a natural disaster like Hurricane Katrina. Not having the proper precautions in place could mean losing it all. Think of your disaster recovery plan as an insurance policy for your data and business should something out of your control happen.
 Developing a disaster recovery plan is a challenging task most organizations, especially small and medium businesses. When an unforeseen disaster hits your business, restoring it can be very critical for business continuity. Cloud-based disaster recovery can be described as a component of a disaster recovery plan that involves maintaining copies of enterprise data and workflow in a cloud storage environment as a security measure.
Continuous data availability is the absolute objective at times of a disaster. With cloud based DR, business continuity planning has become seamless and cost effective. Cloud storage facilities manage and maintain the DR servers thereby reducing the impact of failures at the disaster site.
Our company helps you in the area of Disaster Recovery on the Cloud, through our Cloud Disaster Recovery Planning services – a consulting services component of our Data Storage Management solutions offering.
The Cloud Disaster Recovery Planning services aim to help customers plan their Disaster Recovery setup and develop a Disaster Recovery Plan to make optimum use of the disaster recovery facility. We are experienced in preserving essential data and preventing losses with cloud disaster recovery solutions in Malaysia.
Benefits

of Cloud Based Disaster Recovery
Improved data protection
Cloud backup assures that your data is recoverable and protected.  With industry-leading encryption and security practices, cloud-based data is highly secure.
Ease of use
Cloud BDR solutions tend to have easy-to-use web-based management and user interfaces. At most, cloud solutions require a light-weight agent on devices used for data sync to the cloud, so you have minimal maintenance.
Low Total Cost of Ownership
Zero capital expense and predictable subscription pricing keep total cost of ownership low.
Lower energy consumption
No need for larger server rooms, saving power consumption and energy bills. If you have a Green IT initiative, this is a great way to lower your carbon footprint and energy consumption by leveraging a proven cloud vendor.
Fast implementation
Rapid deployment in a matter of minutes with set-up and configuration wizards.
Agile and scalable
Because it's cloud-based, increasing or decreasing your storage capacity should be painless. Try to avoid any tiered pricing as you increase data volumes.
Enter our

Solution

- Azure Site Recovery
Every business out there is susceptible to an IT disaster, and the only way to ensure that your business mitigates its interruptions is to have a fast recovery due to a well-crafted backup and disaster recovery plan. Too many businesses are ill-prepared for when an IT disaster strikes.
Plan your disaster recovery plan with ASR:
01
Automated VM Protection & Replication
03
Use Azure as Platform for Replication & Recovery
04
Customize your Recovery Plans
05
Coordinate Recovery When Needed
Call Our

Sole Distributor

&

Partner