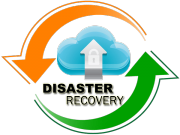 Disaster Recovery as a Service

Solutions
Enter our Solution-

Azure Site Recovery
Every business out there is susceptible to an IT disaster, and the only way to ensure that your business mitigates its interruptions is to have a fast recovery due to a well-crafted backup and disaster recovery plan. Too many businesses are ill-prepared for when an IT disaster strikes.
Plan your disaster recovery plan with ASR:
Automated VM Protection & Disaster Recovery in the Cloud
You can now set and control the policies for the automated VM replication. Site Recovery supports Hyper-V, VMware and also physical servers. You can choose to have either Azure or your secondary datacenter as the recovery site.
Coordinated Disaster Recovery
Now with Site Recovery you can automate organized recovery of your VMs in case of disruption at your primary datacenter. You can create disaster recovery plan to suit the complexity or the simplicity of your business requirements. Use virtual network mapping between primary and recovery sites, and it also allows you to test your disaster recovery plans without any impact to the services.
Zero capital expense and predictable subscription pricing keep total cost of ownership low.
Replication & SR to Azure
You can seamlessly migrate application and replicate workloads to Azure with just a few clicks, or temporarily redirect to Azure when you encounter the need for temporary surge. You can run reports and analytics on copies of workloads of life data in Azure without any impact to the primary datacenter users.
Site Recovery for Health Monitoring
You can remote keep track of the status of your VMs and applications on a continuous basis. All communication between your sites of control is encrypted for data integrity.